tweets

28.8.09
After its premier at the Singapore Toy Games and Comic Convention 2009 recently, Eightyfourcube's limited edition 'Ambush' & 'Kicked' T-shirts are finally available in Malaysia! but only few left.
AMBUSH
S$25 / RM 50*
availability : SOLD OUT (updated on 13th Sept 2009)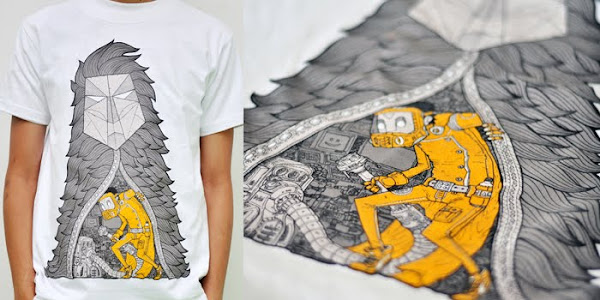 KICKED
S$20 / RM 30*
availability : SOLD OUT! (updated on 13th Sept 2009)
Greige Goods / Off Prints = 30% - 50% of original price - dependant on quality of off-prints.
*malaysian price. Not inclusive of delivery & while stocks last (first come, first serve)!
To finalize & place an order, kindly email us so we can send you attached instructions, an order form and the delivery should be good to go! Hope to hear from you soon and thank you for your great support!
Hurry while stocks last :)
8.8.09
yo guys, dont forget to come to our booth at Singapore Toy, Games and Comic Convention!
booth number A#30!
-
Lemi (THUNDERPANDA X EIGHTYFOURCUBE) live in Singapore!
That's right! Only with the basis of pure love for eccentric creativity, Eric (Thunderpanda / Indonesia) with his specialty for paper-toy craft and Art:Tech (Eightyfourcube / Malaysia) with his skills at custom designs and illustrations – have decided to team up and do an artwork / papertoy first-time crossover specially themed for STGCC 2009.
LIVE DEMO : FREE PAPERTOY-MAKING CLASSES : GOODIES & MERCH : FREEBIES
Also going on at the STGCC are heaps of awesome activities, and artwork features from big shots like Simone Legno of Tokidoki and Gary Baseman. So what are you waiting for? ;)
Singapore Toys, Games & Comics Convention 2009
13th August 2009 – 16th August 2009 @ Suntec City, Singapore
For more info do visit :
www.singaporetgcc.com
www.eightyfourcube.com
thunderpanda.com
-
will be available at our booth! yay! :